Liberty League Homepage
Liberty League Scoreboard
Today
Yesterday
Tomorrow

2005-06 Women's Basketball - Home Page
Select an option for Women's Basketball from the choices above or select from the list at the right to view an individual team schedule.

Liberty League Performers of the Week - Monday, February 13


Liberty League Forward of the Week
Stephanie Czajkowski William Smith
Sophomore (Syracuse, N.Y.)
Czajkowski averaged 14.0 points, 8.0 rebounds, 1.5 assists, and 1.5 steals in a 2-0 weekend for the Herons. At Rensselaer on Friday, she scored 16 points and pulled down six rebounds. The following afternoon at Vassar, Czajkowski posted her third double-double of the season, recording 12 points and a game-high 10 rebounds.
Liberty League Guard of the Week
Whitney Coleman Rensselaer
Freshman (Etiwanda, CA)
In two Liberty League games last week, Whitney led RPI in scoring (16.0 points per game), rebounding (8.5 per game) and assists (5) while also chipping with a block and two steals in 24.5 minutes per game. She had team-highs of 14 points and 11 rebounds with two assists, a block and a steal in 29 minutes of a 63-50 loss to William Smith. She then recorded a team-best 18 points with six rebounds, three assists, two blocks and two steals in 20 minutes of an 82-72 victory over Hamilton.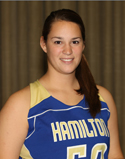 Liberty League Rookie of the Week
Sydney Fasulo Hamilton
C (Lancaster, Pennsylvania)
Sydney Fasulo averaged 18.5 points, 6 rebounds and 1.5 steals in two games for Hamilton. Fasulo scored a season-high 24 points and grabbed seven rebounds in a loss at Rensselaer on Saturday. She went 8-for-16 from the field and 8-for-13 at the free throw line. Her 24 points are the most by a Hamilton player this season. Fasulo scored 17 of the Continentals' 42 points in the second half.
---
Upcoming Events

Saturday, February 18


2:00 pm Hamilton at Clarkson
2:00 pm Union at Rensselaer
2:00 pm William Smith at St. Lawrence

Recent Results

Saturday, February 11


William Smith 66 at Vassar 57
St. Lawrence 69 at Skidmore 43
Hamilton 72 at Rensselaer 82
Clarkson 52 at Union 68


Tuesday, February 14


Rensselaer 69 at Vassar 53
Hamilton 50 at William Smith 73


Friday, February 17


Union 65 at Vassar 36
William Smith 83 at Clarkson 48
Skidmore 59 at Rensselaer 67
Hamilton 49 at St. Lawrence 68


Saturday, February 18


Skidmore 40 at Vassar 36